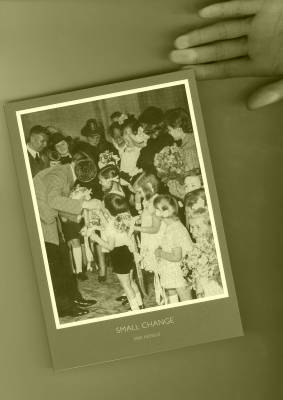 SMALL CHANGE
SMALL CHANGE
A book that shows us change doesn't have to be big to be effective, or funny.
Collected, edited and designed by Erik Kessels
Online auction sites often show photographs where details or sections of the photograph have been covered due to privacy and/or censorship issues. This means that sellers are forced to come up with smart and practical solutions so that the photograph conforms to privacy and censorship guidelines, but still shows enough of the image to interest prospective buyers.
This often results in accidental but hilariously interesting new images. Erik Kessels purchased the book 'Ein Volk ehrt seinen Führer' at an online auction. It caught his attention because the seller had censored the photos using carefully placed coins. The coins added a new dimension to these controversial images, which inspired Kessels to create a facsimile; a reproduction of the original but completely censored, from front to back. This is a political cover up that might actually make you smile. Small Change is a documentation of, and a tribute to a little-known Internet phenomenon.
Colour, black & white, 265x190 mm, 64 pages
Euro 30
ISBN 978-90-70478-47-6