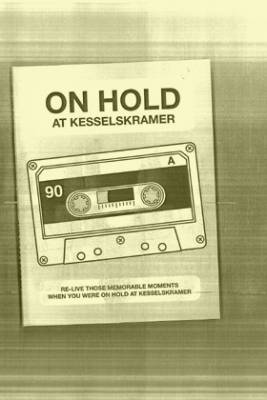 ON HOLD AT KESSELSKRAMER
ON HOLD AT KESSELSKRAMER
Illustrations by Anthony Burrill.
The average person spends about 2 months of his or her life on hold.
A useless fact about useless time spent waiting for your Internet provider, your telecom centre, your doctor, your hotel or airline booking. KesselsKramer thinks you are not the average person.
KesselsKramer also believes that time spent listening to the crackling static of telephone air is wasted time. Which is why, when you are left waiting on the line at KesselsKramer, our desire is to make it an enjoyable occurrence.
On Hold at KesselsKramer re-lives those memorable moments when you were left dangling. Ten call waiting messages are waiting for you, without the irritating need to talk with someone after. Enjoy, press rewind and enjoy again.
Color, 140 x 190 mm, CD with 37 minutes of tunes.
Euro 13
ISBN 978-90-70478-14-8