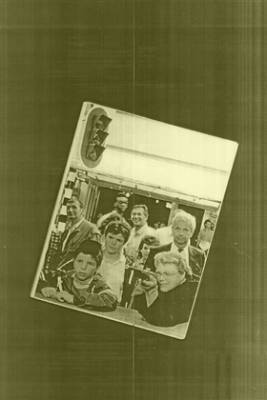 IN ALMOST EVERY PICTURE 7
Collected & edited by Erik Kessels and Joep Eijkens.
Thanks to Ria van Dijk. Text by Joep Eijkens.
In almost every picture #7 continues with the story of a Dutch woman whose life is seen from the point of view of a fairground shooting gallery.
The chronological series begins in 1936, when a 16 year old girl from Tilburg in Holland picks up a gun and shoots at the target in a shooting gallery. Every time she hits the target, it triggers the shutter of a camera and a portrait of the girl in firing pose is taken and given as a prize. And so a lifelong love affair with the shooting gallery begins. This series documents almost every year of the woman's life (there is a conspicuous pause from 1939 to 1945) up until present times.
Colour / black & white, 155 x 200 mm, 128 pages, soft cover.
ISBN 978-90-70478-23-0
SOLD OUT