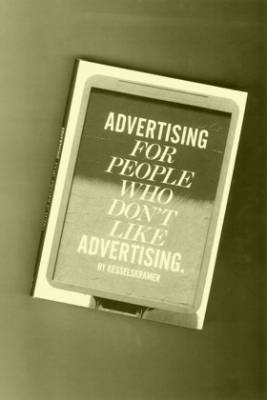 ADVERTISING FOR PEOPLE WHO DON'T LIKE ADVERTISING
Advertising For People Who Don't Like Advertising is a book about a communications agency that doubts most communications.
KesselsKramer's skepticism has led to a style of advertising which aims to be human and truthful.
Sometimes, it succeeds. Sometimes, it doesn't.
In this book, KesselsKramer documents its creative efforts, offers advice, and reaches out to skeptics whom it admires. Among them: Alex Bogusky, Stefan Sagmeister, Steve Henry, Anthony Burrill, Hans Aarsman and Mark Fenske.
Color, 240 x 170 mm, 240 pages, Hardback.
Published by Laurence King Publishing.
Euro 25
ISBN 978-1-85669-825-2.