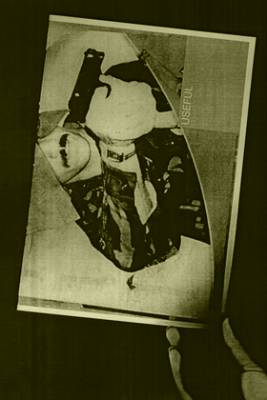 USEFUL PHOTOGRAPHY 4
USEFUL PHOTOGRAPHY #004
Photographs by Ad van Denderen.
Edited by Hans Aarsman, Claudie de Cleen, Julian Germain, Erik Kessels, Hans van der Meer.
Posters of Palestinian suicide bombers before their mission are put up after their mission is accomplished. Documentation of the posters, reprinted in A3 format on mat paper. Folded in half and bound by cotton form the entire content of this 'docartzine'. The centre fold printed on white paper references and translates each poster.
Colour, 210 x 297 mm, 80 pages, soft cover.
ISBN 978-90-75380-96-5
SOLD OUT