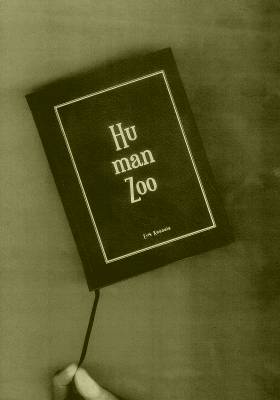 HUMAN ZOO
The zoological museum in Riga has a beautiful collection of animals, fossils and taxi-derma. Visitors get a clear and compact overview of what life in nature has to offer. From skeletons of large animals, a large collection of birds and shells, to the smallest insects, you can find them all in this compact museum. We as humans look at these displayed species full of curiosity and wonder. We are always surprised what kind of weird and wonderful surprises nature bring us. But aren't humans filled with the same kind of strange and curious behavior? Aren't we also some kind of 'strange animals'?
Erik Kessels made an intervention in the zoological museum with a series of his collected, found and re-appropriated images called 'human zoo'. Images proving that we as humans don't behave us any less weird and strange than the animals the images are paired with. These images infiltrate the zoological displays in curious ways, popping up, blending in, mimicking, and turning our focus to the human viewers of these exhibits. On display are humans' strange homing instincts and mating habits, the ways we both preen, growl and spray. Many of these images show the odd connections that humans and animals share together. The collected images of Erik Kessels react in a thoughtful and playful way to the animals in the museum, putting the weirdness of human and nonhuman species on display. It gives 'Human Animals' a taste of their own medicine, putting prime examples of the human species on display as artefacts behind the glass with the other animals, where we belong.
Human Zoois an installation and book by Erik Kessels for Riga International Biennial of Contemporary Art 2018
Human Zoowas commissioned by the 1st Riga International Biennial of Contemporary Art, RIBOCA1, Everything Was Forever Until It Was No More, curated by Katerina Gregos, 2 June - 28 October 2018
Color, 135 x 184 mm, soft cover.
Euro 20
ISBN: 978-9934-8760-4-2