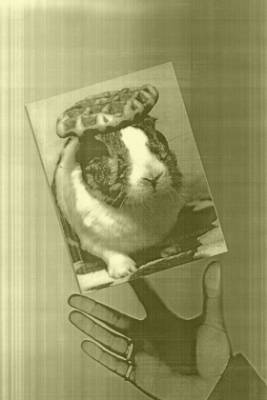 IN ALMOST EVERY PICTURE 8
Collected & edited by Erik Kessels.
Photographs by Hironori Akutagawa. Text by Christian Bunyan.
In almost every picture #8 continues this well-established series of found photography books. Its subject is one of the earliest successful photo blogs, a site documenting the story of Oolong, a Japanese rabbit whose unusually flat head made it ideal for balancing objects.
Starting in 1999, hundreds of images were posted by Oolong's owner, Hironori Akutagawa, each showing this otherwise ordinary creature with an unusual item placed squarely on his skull. The items in question range from rabbit bones to cakes, teapots and other household objects, always shot in low res, almost always from the same angle. Now in book form, Oolong's images chart the story of a unique friendship between man and bunny.
Colour, 155 x 200 mm, 120 pages, soft cover.
Euro 25
ISBN 978-90-70478-28-5