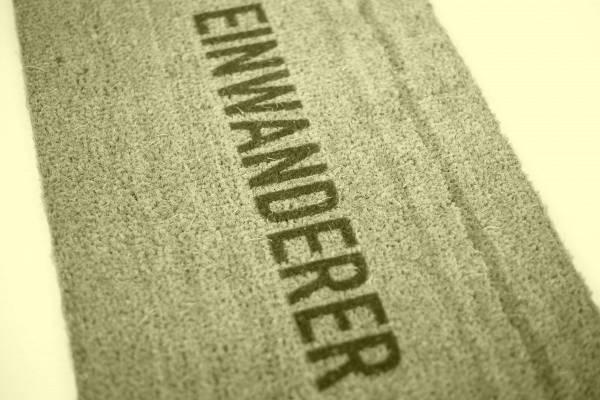 EINWANDERER FLOOR MAT
Part of the collective exhibition "Mit Anderen Augen - Das Porträt in der Zeitgenössischen Fotografie" (With Different Eyes - The portrait in Contemporary Photography) taking place at the Kunstmuseum in Bonn from the 25th of February to the 8th of May 2016 and organised jointly by the Kunstmuseum from Bonn and the Photographischen Sammlung/SK Stiftung Kultur from Cologne
For this collective exhibition exploring portrait photography today, E. Kessels proposes the project "Einwanderer, an installation with many faces". The installation fills up the space completely with passport photos of German immigrants, creating a human mosaic of hundreds of individual photographs while offering a visually fascinating retrospective of the face of a generation.
The mats are a constitutive part of this installation: spread around in between the walls covered with photographs, these typical home-welcoming items invite viewers and visitors to "greet immigrants home" ("Bitte begrüsse einwanderer zuhause mit dieser fussmatte").
Echoeing Germany's long history of immigration (with more than 16.3 million German citizens having an immigrant background), the installation engages the viewer to look at how the initial influx shaped the population today. Consequently, this piece raises the current issues about diversity and immigration which are and surely will remain sensitive topics in contemporary Germany as much as in the world.
Edition of 150. All numbered and signed.
Euro 75
40x60 cm mat in coco 17 mm naturel with black text printed. 2016